Alert 360 Earns Five Diamond Monitoring Center Designation
TMA recognizes company for excellence in alarm monitoring
Tulsa, Oklahoma – Alert 360, has announced the company earned Five Diamond Monitoring designation from The Monitoring Association (TMA). This is the sixth year the company has received the recognition. TMA's Five Diamond Monitoring Center designation is granted annually to monitoring centers that meet its requirements for excellence. Tulsa-based Alert 360 is one of the nation's top providers of home and business security systems.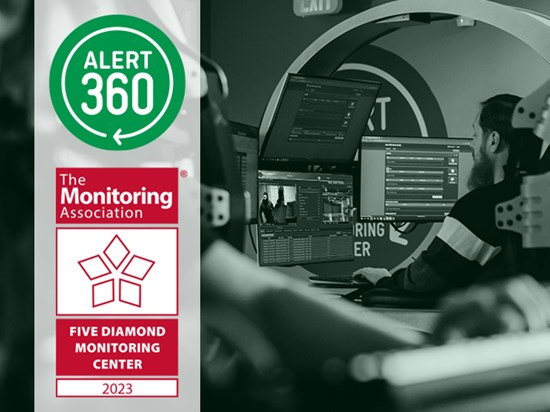 According to TMA, there are approximately 2,700 monitoring centers in the United States that communicate and interact with police, fire, and emergency services agencies. Of this group, fewer than 130 monitoring centers have achieved the Five Diamond designation, setting these companies apart.
"Our dedication to continual training and excellence has earned us the fastest alarm response times in the industry," said Richard Ginsburg, Alert 360 CEO. "The Alert 360 operators who respond to security system alarm activations consistently provide a dispatch call response within 20 seconds. Most home security systems and service providers do not offer their own monitoring. Instead, they contract the services to a third party, which often may be located overseas. Additionally, few security companies have the local security services branch location, or the alarm response times we provide at Alert 360. Our team is extremely proud of the help they provide our customers when it's needed most."
Alert 360 operates two U.S.-based alarm monitoring centers, providing local home security services to nearly 350,000 customers.
The company satisfied the following points of excellence as determined by TMA for its security systems and home automation monitoring services:
Commitment to ongoing job-related education and testing by having 100 percent of its monitoring center operators certified using the TMA online training series on industry best practices.
Commitment to random inspections and quality criteria standards by a nationally recognized testing laboratory such as FM Approvals, Intertek/ETL, and UL.
Commitment to raising the industry standards through TMA membership and participation in its activities.
Commitment to reducing false dispatches.
Commitment to the highest levels of customer service.
According to TMA, its Five Diamond designation means that a monitoring company has demonstrated an exceptionally high degree of responsibility to their local home security customers, business security customers, and communities. This responsibility includes the investment of time, money, and commitment to quality alarm monitoring training.
Home and business security alarm system monitoring operators serve as a life-saving link between residential or business properties to the police, fire, and emergency services in local areas. The TMA Monitoring Center Operator course covers virtually all phases of monitoring center communications with customers, police, fire, and emergency services communications centers. In order to achieve the Five Diamond designation, every operator must not only pass the course and recertify every three years, but demonstrate:
Proficiency in alarm confirmation process, which helps reduce false alarms.
Proficiency in communications with Public Service Answering Points, such as the Emergency 911 centers.
Knowledge of electronic communications equipment, including cellular, radio and internet communication systems.
An understanding of the codes and standards of such organizations as Underwriters Laboratories, Factory Mutual, the National Fire Protection Association and others.
Proficiency in emergency preparedness under a wide scenario of possibilities.
"The most important thing we do at Alert 360 is there for our home and business security customers," said Kent Morris, Vice President of Customer Experience at Alert 360. "Alert 360 has been in business for 50 years, with the goal of making our customers' lives safer and easier. We also work hard at being a positive community member and appreciate the relationships we have with local emergency personnel. As such, we continuously train and develop new and better ways of providing security services and alarm monitoring. We are always grateful and proud when our dedication and team members' talent are recognized. Most importantly, we believe our efforts mean our customers are safer and their properties more secure."
Alert 360 has 24 local home and business security offices across the country, with customers in 27 states. In addition to earning the Five Diamond Monitoring Center designation, this month, the company also was recognized by The Journal Record's annual Reader Rankings. These awards recognized Alert 360 as a "Best Place to Work" and a "Most Innovative Workplace." In recent years, Alert 360 also has been voted as a "Best Home Security Provider" and "Great Companies to Work For."
About Alert 360
Founded in 1973, Alert 360 marks its 50th year as a home security and business security company this year. Today, the company is one of the largest providers of professionally monitored home security and home automation solutions to homes in the United States. For security services in the Los Angeles area, Alert 360 also provides armed patrol guards, vacation watch services, and security escorts from its Southern California home security systems subsidiary ACS Security.
About The Monitoring Association
The Monitoring Association (TMA), formerly the Central Station Alarm Association (CSAA), is an internationally recognized non–profit trade association that represents professional monitoring companies, security systems integrators, and providers of products and services to the industry. Incorporated in 1950, TMA represents its members before Congress and regulatory agencies on the local, state and federal levels, and other public safety authorities.
Brad Henderson
Digital Strategist
www.alert360.com
214-682-0689