Alert 360 Marks 50 Years As a Home Security Systems Company ​
Company marks milestone with growth, new home security, business security services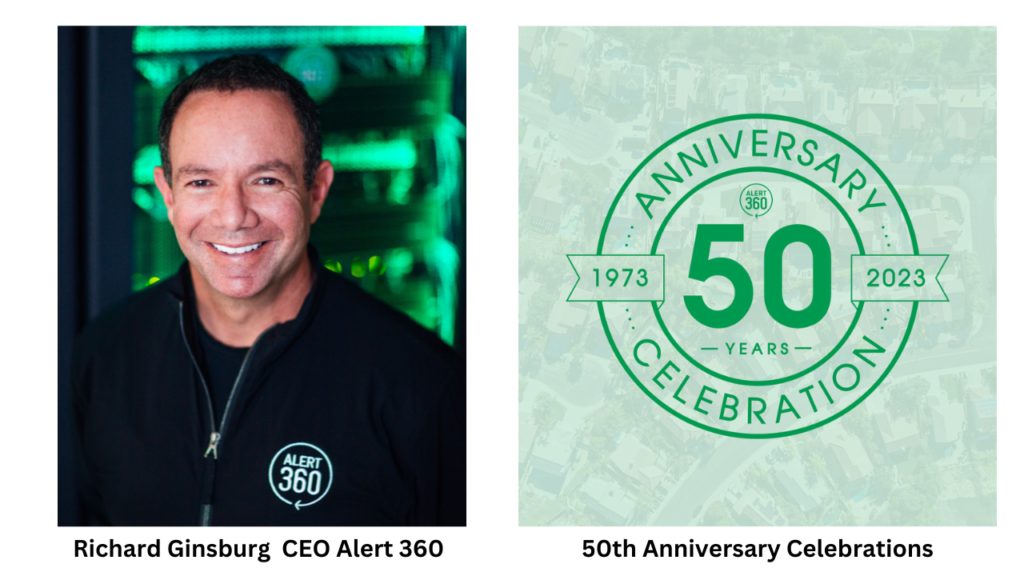 Tulsa, Oklahoma–February 8, 2023 — Alert 360, one of the nation's largest providers of home security systems, is celebrating a company milestone in 2023. The national alarm monitoring provider marks its 50th year anniversary as a home and business security company this year.
Founded in 1973, as Guardian Security Systems, the company is one of the nation's oldest licensed alarm monitoring providers. It was Oklahoma's premier security provider for more than 30 years and was later purchased by Central Security Group, retaining the Guardian name within Oklahoma.
Today, what began as that small installation and alarm monitoring company – later rebranded as Alert 360 – has transformed into a leading home security, business security, and home automation company. With more than 1,000 employees, the company monitors over two million security sensors, with more than 80,000 CCTV cameras installed.
Alert 360's 50-year milestone follows a period of rapid growth and multiple product launches. In early 2022, Alert 360 combined with My Alarm Center to deepen its service reach and presence across the country. The My Alarm Center family of companies included My Alarm Center, Hawk Security, and Alarm Monitoring Service of Atlanta (AMSA). In late 2022, the company assumed responsibility for the ongoing service, monitoring, and technical support for thousands of VIO Security customers, under the Alert 360 brand.
In the past two years alone, Alert 360 has launched Connected Car; the Flex 360; the Alert 360 Smart Video Doorbell 2.0; the Alert 360 Edge artificial intelligence security panel, and Alert 360 Video Shield remote and live video monitoring. The company also now provides armed patrol guards, vacation watch services, and security escorts for higher-end clients, from its Los Angeles-area subsidiary ACS Security.
A Look Back: Alert 360's History as Home Security, Business Security Leader
With decades of experience, by 1999, the company had a solid foundation and was recognized as one of the fastest growing security and home automation platforms in the United States. In 2014, Richard Ginsburg was named CEO and a member of the board of directors of what was then still Central Security Group and included Guardian Security Systems. Prior, Ginsburg had led one of the largest operating restructurings in the industry as CEO of Protection 1.
Ginsburg transformed Protection 1 by energizing the employee base; creating operating efficiencies; cutting attrition; becoming the first national monitoring company to offer interactive security services; and launching a commercial national account business. Protection 1 grew to become the second-largest security company in the industry, and in 2010, the company was acquired for nearly $900 million. Ginsburg brought this track record of service, innovation, strategic execution, value creation, and positive company culture to both Central Security Group and Guardian Security Systems of Oklahoma.
Alert 360 Under Industry Hall of Fame Security Veteran Richard Ginsburg
The year Ginsburg joined Central Security Group, the company announced an updated brand and product line – Alert 360 – to better symbolize the technology behind its services and its complete security and home automation products. It also acquired Fort Knox Security Services and SW Security Services, based in Dallas. This was followed quickly by the acquisition of Allied Protective Systems and new branch locations in Fort Worth, Texas, and Sacramento.
In 2018, the company aligned its visual identity with the company's evolving product line and announced the more innovative Alert 360 brand as its official company name bringing both Central Security Group and Guardian Security Systems together under the new brand.
The early acquisitions and branch expansions were the first in a long line of acquisitions following Ginsburg's arrival. In addition to those listed above, acquisitions have included Royal Security, Total Protection, V3 Security, Praetorian Protective Services, Allied Protective Services, EMG Alarm, Security Services, Securenet, A&H Security, iGUARD Alarms, and more. For a complete list of Alert 360 acquired companies, visit the company's news page at Alert360.com.
Alert 360 has achieved steady growth and branch expansion nearly every year under Ginsburg's direction. It grew from the 8th largest security provider in the country in 2014 (ranked by residential subscribers) to among the top five national security companies. Today, Alert 360 serves nearly 350,000 customers nationwide and has more than 24 branch locations, with customers in 27 states. Alert 360 also operates two company-owned U.S.-based, alarm monitoring central stations.
"The executive team at Alert 360 includes leaders with decades of industry experience, from the top security companies in the nation," said Ginsburg. "Our talented team members within every department are focused on both extraordinary internal and external customer service. This includes excellence in home, business, and commercial security system installation, alarm monitoring, customer service, product innovation, and dealer relationships. I am extremely honored to work with the entire team across the country."
Alert 360's Team, Security Systems Awards, Future
Alert 360's leadership team includes: Anastasia Bottos, President and Chief Operating Officer; Vickie Catina, Chief Financial Officer; Darren Goodman, Senior Vice President of Sales and Marketing; Jason Grelle, Senior Vice President of Acquisitions; Joe Chambers, Senior Vice President of Operations; Kent Morris, Vice President of Customer Experience; Duane Dietrich, Vice President of IT; Erik Mellon, Vice President of Cloud Ops & IS; Elizabeth Blair, Vice President of Safety Compliance; and five Regional Vice Presidents, including John Byrne, Chad Dawald, Enrique Puig, David Corio, and John Sala.
Alert 360's Authorized Dealer Program, under Jackie Schmidt Director of Acquisitions, also has experienced significant growth, widely expanding the company's sales footprint.
"The success and longevity of our business is a direct result of our push for innovation, long-term strategies, and commitment to our customers and employees," said Bottos, President of Alert 360. "This focus and dedication over the past 50 years has allowed our business to weather economic downturns and a pandemic, all while retaining highly qualified team members. Our amazing team has consistently delivered new technology and services to meet the needs of our customers and each other. We have an incredible team and are well positioned to continue this 50-year trend. I am very excited to see what the future brings."
In 2016, Alert 360 was named an Inc. 5000 "Fastest-Growing Privately Held Company in America." Most recently, for the third year in a row, Oklahoma-based Alert 360 business and home security company was selected as one of the "Great Companies to Work For" by Oklahoma Magazine.
Alert 360 also has earned Five Diamond Monitoring Center designation from The Monitoring Association and has been voted a "Best Home Security Provider." In addition, for the past six years, Alert 360 has been selected as one of the "Best Places to Work in Oklahoma," where the company is headquartered.
"Alert 360's focus on company culture, fiscal responsibility, smart growth. and positive dealer relationships has positioned us for continued expansion across the country," said Catina, Alert 360 Chief Financial Officer. "Our solid growth and the popularity of our security products and services has allowed us to continue building our team and hiring in almost every market we're in. Our acquisition strategy is built on areas that make sense and where we can build on relationships. We are celebrating our 50 years of business by planning for additional, profitable successes, leading milestones, and continuing to be one of the top leaders in the security industry."
Alert 360 Home Security, Business Security, Home Automation
Alert 360's full-service line of home and commercial security services includes wireless security systems; smart home automation; professional-grade IP security/stand-alone video cameras; life safety devices; glass break and motion sensors; water leak detection devices; keyless entry; smart thermostats; remote garage door control; smart lighting; live video footage; recorded clips; indoor/outdoor security cameras and more. Alert 360 also provides mobile app access and professional integration of home automation devices, including sprinkler systems, sound systems, Amazon Echo, and Google Home.
For more about Alert 360 home security services, business security offerings, company history, locations, and more, visit Alert360.com.
Contact Information
Brad Henderson
brad.henderson@alert360.com
888.642.4567 Ext. 62215
https://www.alert360.com/