Cristiani's Balance Fitness & Nutrition, LLC is thrilled to announce a partnership with Derhy Enterprises, Inc.
Beverly Hills, CA – January 05, 2023 —
Balance Fitness & Nutrition, LLC, the inventor of "GYM IN A BOX," a popular L.A.-based technology-empowered, cutting-edge fitness fashion, has entered into an equity partnership with Derhy Enterprises and its Founder Marco Derhy. Derhy is an entrepreneur at heart and a Global Marketing and PR expert. Derhy Enterprises' mission is to expand the company's patented device sales globally. Specifically, the awarded, patented ( design) prime product line "GYM IN A BOX" that incorporates their patent pending new muscle toning & fat reduction technology " ToneUp15" in all their SMART APPAREL.
Cristiani's Balance Fitness & Nutrition, LLC currently offers multiple SMART fitness wearables and body sculpting solutions, including face, neck & jawline sculpting, micro-current skin rejuvenating masks, face & body contouring devices & anti cellulite solutions for at-home use. These products provide a massive opportunity in the financial market. According to data compiled by market research firm, The NPD Group, the market for these products could rise to as high as $350 Billion.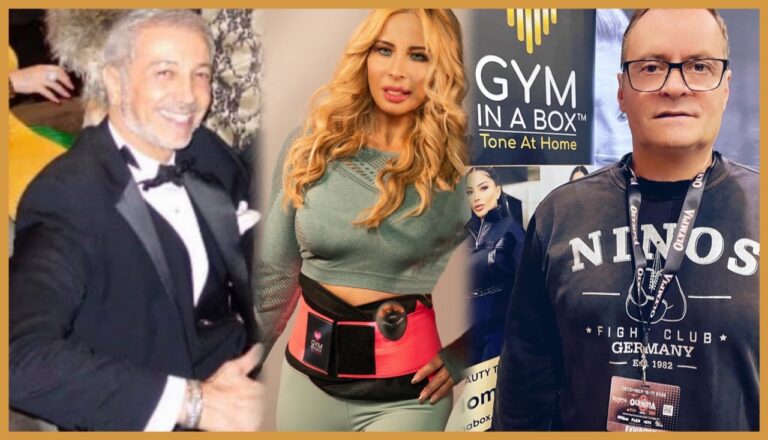 About Cristiani's Balance Fitness & Nutrition, LLC
Cristiani's Balance, Fitness & Nutrition, LLC is a Los Angeles-based manufacturer developing a range of intelligent clothing-based fitness apparel that features integrated fitness technology for massage, body toning, and skin improvement. Cristiani's Balance Fitness & Nutrition, LLC created ToneUp15 (Trademark) Toning Tech using scientifically proven Micro Current Stim-Fit technology. Other invented product differentiators to existing muscle stimulation technologies include Smart Fabrics, Wire-Free, no Gel Pads, washable (hygienic), seamless technology integration (invisible), shapewear effect, fashionable, sexy designs, and comfortable high compression " second skin" – fit. 
The company's Smart Apparel Body sculpting garments provide a 'Gym in a Box' (Trademark) benefit that allows fitness-conscious consumers to achieve effective workouts simply by wearing it. Their product line is available on GYM IN A BOX SHOP.
https://gyminabox.la/collections/featured-collection?mibextid=Zxz2cZ
And available on the Home shopping network QVC Germany by spring this year. It will also be available on QVC USA in the near future, as well as on several TV fitness transformation shows.
Cristiani's Balance Fitness & Nutrition, LLC and GYM IN A BOX were featured on January 2023 in the international entrepreneur magazine OrhIDEAL and recognized as the "Inventors Of The Year 2022 Award" for their Award-Winning Product Line, GYM IN A BOX (Trademark). The magazine recognized the pioneering work of Nika Cristiani and Nino Cristiani in advancing electronic muscle stimulating & body sculpting technology "ToneUp15 (Trademark)." They were also recognized for revolutionizing the fitness & beauty industry with cutting SMART Apparel & Beauty Devices by pioneering advanced Healthy Aging Solutions.
About Nika Cristiani, Founder, Balance Fitness & Nutrition, LLC
Nika Cristiani is a Healthy Aging Advocate and experienced Fitness Tech entrepreneur. She is a certified STIM-FIT Celebrity Power trainer and a pioneering force in the field of Stim-Tech application in the US. 
Nika created the 'Gym In A Box' concept to empower women to look better, feel better & perform better, especially when COVID-19 forced everyone to train at home. Nika felt this was the perfect time to focus on creating affordable at-home toning products based on cutting-edge technology. Nika is the Design Director for the GYM IN A BOX(Trademark) ultimate toning technology-empowered SMART activewear, designed, made, and manufactured locally in Los Angeles, USA. Nika Cristiani created THE WORLD'S FIRST ELECTRONIC CORSET, GYM IN A BOX (Trademark) CoreWrap as well as the world's first whole body workout smart apparel line. 
In collaboration with her husband, Nino Cristiani, a certified expert in these exclusive cutting-edge training & rehabilitation methods and techniques, Celebrity Trainer, and boxing coach, she introduced their state- of- the art training methods and sports rehabilitation expertise to the USA in 2016. 
They also established their first Celebrity Personal Training Boutique Gym " E-Balance PowerGym" and developed their consumer product line in Silicon Valley. 
They adopted cutting-edge technology-empowered training devices to prepare professional athletes for the Olympics, Boxing Championships, Tour de France, etc. They developed automated muscle stimulation that helps build power and strength and burn extra calories exceptionally quickly. Also, they are scientifically proven to achieve the fastest results in sports rehabilitation and get athletes back on track ultra-fast after injuries or surgeries. 
About Derhy Enterprises:  
Derhy Enterprises invests in diverse sectors, committed to business development, Global Marketing, and PR. Marco Derhy, the CEO of Derhy Enterprises, is a Business Strategist Expert and a global consulting firm. He is an Entrepreneur at heart, a Bestselling Author, Global Marketing, a PR expert, and an advisory Director. Derhy Enterprises aids with the management and growth of businesses, particularly for public figures.
If you are interested in becoming a global  GYM IN A BOX distribution partner, with the world's most advanced fitness and healthy aging product line, grab this amazing business opportunity and become a partner in one of the world's fastest growing and profitable market segments. 
To view one of the source article of this press release, please visit: Cristiani's Balance, Fitness & Nutrition
Media Contact Information
Name: Nika Cristiani (CEO) and Nino Cristiani (CPO)
Email: Send Email
Company Name: Gym In A Box by Cristiani's Balance, Fitness & Nutrition, LLC
Phone: (310) 613.2773
Address: 324 S. Beverly Dr. Suite #1103
City: Beverly Hills
State: CA. 90212
Country: United States
Website: https://gyminabox.la