Father's Day Car Show at Broadway Plaza, Hosted by A Brighter Day and Elite Motor Cars
Walnut Creek, California 
A Brighter Day, a leading Nor-Cal charity for teen suicide prevention, is joining forces with Elite Motor Cars and Broadway Plaza to host a spectacular Father's Day Car Show on June 18th, 2023. This exciting event will ignite the open-air expanse of Walnut Creek's distinguished shopping hub with an awe-inspiring showcase of cars, driving awareness for teen mental health.
This event invites families, car lovers, and community supporters to revel in a showcase of exotic and high-performance vehicles presented by Elite Motor Cars. Charity supporters are also rallying together to enter their own prized vehicles, showing a united front in the car community for tackling the crucial issue of teen suicide prevention. Established in 2006, Elite Motor Cars is thrilled to partner up with such a noble cause.
"Supporting A Brighter Day's mission has been an incredible opportunity for us to give back and use our passion for cars for the greater good," added Sean Hamlin, from Elite Motor Cars. "If there's anything I know about people in the car community-they're passionate. They have a deep appreciation for the little details that make a huge difference, and they stick together. We can all take a lesson from that."
But it's not just about the cars. At its heart, this event is about community, compassion, and commitment to a vital cause. Last year, A Brighter Day made remarkable strides through its fundraising efforts, paving the way for the launch of new programs. Their dedicated crisis text line (Text BRIGHTER to 741741) and teletherapy partnership are a testament to the impactful work they've been doing. The journey to save teen lives, however, forever continues; the charity needs much more support to amplify its reach.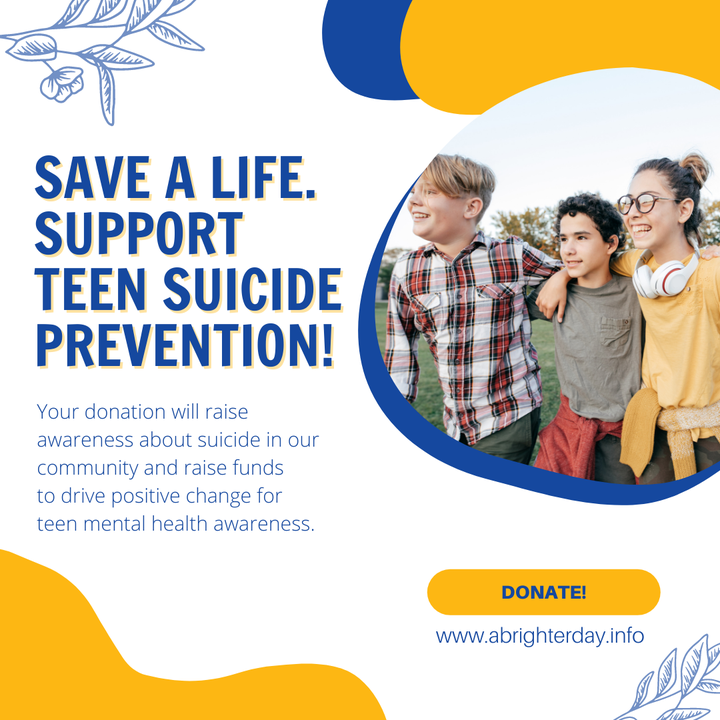 "Broadway Plaza stepping up to support us is just the fuel we need, but it's only the starting line. We're focused on driving our impact forward, and every dollar raised brings us one step closer to our goal – helping teens navigate their mental health," said Domenico Frank DeLuca, Director of Corporate Partnerships. "We aren't going anywhere. As we continue to gather momentum, we urge everyone to join us in this critical mission. Your contribution could be life-changing."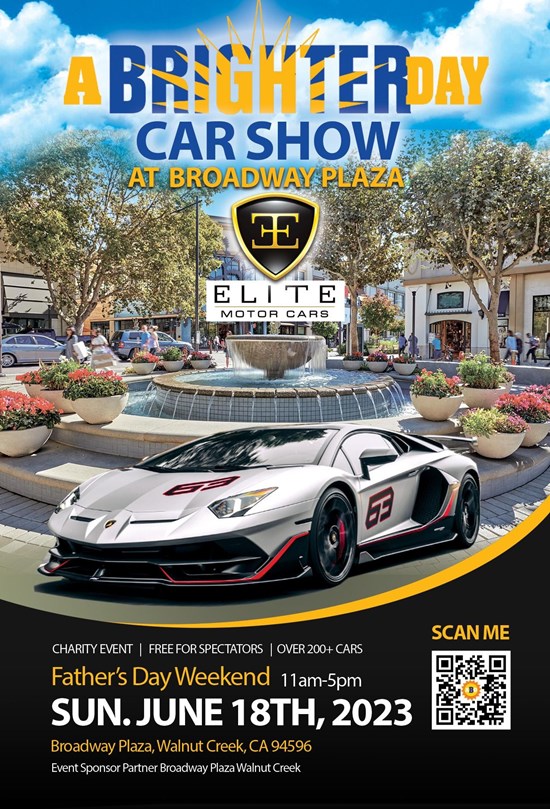 Retailers at Broadway Plaza are pledging their support, with options to contribute via donations, a percentage of their sales for the day, providing gift bags, and more. With over 80 specialty shops, Broadway Plaza offers something for everyone. Guests are invited to make a difference by participating in the charity raffles and making donations to charity booths.
A Brighter Day invites the entire local community to come down to Broadway Plaza, Walnut Creek, on June 18th for an unforgettable Father's Day celebration. Beyond the glamour and sleek cars, the event serves a higher purpose – to combat teen suicide. 
For corporate partnership opportunities, please contact domenico@abrighterday.info.
For volunteer opportunities, please visit https://abrighterday.info/volunteer/.
For donations and sponsorships, please visit https://abrighterday.info/join-the-fight-to-stop-teen-suicide/.
For car show vehicles, purchase entry tickets here
https://www.eventbrite.com/e/a-brighter-day-car-show-at-broadway-plaza-sponsored-by-elite-motor-cars-tickets-601579609807
About A Brighter Day
Founded in 2015, A Brighter Day Charity is a 501(c)(3) nonprofit organization based in the San Francisco Bay Area. They work to bring awareness to teen mental health, provide educational resources to parents and teens, and ultimately stop teen suicide. A Brighter Day was founded by Elliot Kallen, President at Prosperity Financial Group, and his wife Tammy, in memory of their son, Jake Kallen. Through a variety of initiatives, the charity works diligently to ensure teens struggling with mental health issues realize a brighter future is within their reach.
Press Contact:
Name: Elliot Kallen
Phone: (925) 314-8503
Email: Elliot@abrighterday.info
Website: www.abrighterday.org