Qwyrk Tales Complete with Release of FAYTTE
Tim Rayborn's Acclaimed Comic Urban Fantasy Series Featured at Frankfurt Book Fair
Frankfurt Book Fair, Germany – October 18, 2023 – The release of Tim Rayborn's FAYTTE marks the fourth and final installment of the adventures of a group of misfits at the edge of reality in modern northern England. The series is featured at the Armin Lear Press booth (6.0, A21) at the Frankfurt Book Fair, where a drawing to win the 4-book set will take place on October 21 as part of a launch event for FAYTTE.
Set in contemporary Britain, Tim Rayborn's Qwyrk Tales are modern fantasies filled with magic, myth, fun, adventure, humor, sarcasm, and occasionally elves (who are quite silly). Drawing from the same well as Monty Python, Pratchett's Disc World novels, and Pratchett and Gaiman's Good Omens, among many others, the books explore a hidden magical world and its many wonders, terrors, and annoyances.
"Charming and funny, the characters are delightful.
I wouldn't have missed it for anything."
~ Peter S. Beagle, author of The Last Unicorn
"The worldview is wacky, the plot line is twisty, the dialogue is a demented fruitcake of British humor, and you won't be able to stop turning the pages."
~ Diana L. Paxson, author of Sword of Avalon
"Tim Rayborn's series is fun, lively, unexpected, engrossing reading."
~ D.Donovan, Sr. Reviewer, Midwest Book Review
Each of the four books in Qwyrk Tales stands alone but starting with Book 1 helps the reader take the first big jump into Tim Rayborn's vivid, comic, urban fantasy world.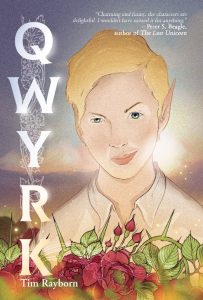 QWYRK
Qwyrk is having a bad day; several, in fact. One of the Shadow folk tasked with keeping an eye on humanity, she's ready for a well-earned break in Yorkshire, but now she's (literally) run into a girl, Jilly, who just saw something quite supernatural and truly awful happen in her town. As Qwyrk tries to unravel the mystery, layers of villainy are exposed, and she's stuck with an assortment of unlikely folk that she'd rather not have "helping" her. Together, they confront ancient magic, medieval conspiracies, and the possible end of the world (that again?). It's not the holiday Qwyrk was hoping for!
Released May 25, 2021 for Litha (Summer Solstice)
LLUCK
All Qwyrk wanted was a few winter days of rest and relaxation in the small town of Knettles in Yorkshire, but of course, it all goes wrong immediately. She wants to spend time with her young human friend, Jilly, but Jilly and her not-so-imaginary friend Blip have just met a remarkable boy named Lluck, who seems to be able to bend events to his favor.
Lluck is on the run from some awful and obnoxious goblins. On top of that, Qwyrk meets a mysterious and beguiling woman, who's also looking for the boy. And in the dark, something wants Lluck for itself, but why?
Released November 24, 2021 for Yule (Winter Solstice)
CHANTZ
Qwyrk can't get a break. Spring is springing, but she's stuck breaking up drunken faery fights as Beltane approaches. She really wants to take things to the next level with her possibly-probably-girlfriend Holly, but she keeps coming down with a chronic case of chickening out.
And now, her best human friend, Jilly Pleeth, has had a rather odd encounter. While attending a concert by her favorite band, the Mystic Wedding Weasels, Jilly was amazed by their enigmatic singer, Chantz. There's something downright magical about her voice, something so magical that an evil force from outside this world wants her for nefarious reasons. But will Chantz succumb to its lure?
Released April 12, 2023 for Beltane (Spring Fling)
FAYTTE
As Halloween draws near, Qwyrk and company are abruptly reminded of just how screwed-up everything can get. Qwyrk and Holly are literally being driven apart by magical forces they don't understand, and their friends are in disarray. Then Holly goes missing and Qwyrk loses something else that's almost as important, while the behind-the-scenes scheming comes to the fore at last. And who is the mysterious, ancient figure in red that seems to know all and see all, but annoyingly, won't talk about it?
Traitors abound, old friends return, sides will be picked, and the final battle between good and evil will rage. To stop the actual end of the world from happening, Qwyrk might have to make a decision that will change her life forever.
Release date is October 24, 2023 for Sanhain (Halloween)
About Tim Rayborn
Described as a "literary raconteur" and a "virtuoso," Tim Rayborn denies everything, but it's true that he's a versatile writer and an acclaimed musician. He's written dozens of books, appeared on more than forty recordings, plays many musical instruments, and has visited five continents.
About Armin Lear Press
Armin Lear was founded in 2019 with the purpose of publishing books connecting people with ideas that make our lives richer, more fulfilling, and happier. Its founders have 31 years of publishing experience. The company headquarters is near Boulder, Colorado with a production office in Arlington, Virginia and a design team based in Connecticut. Armin Lear is a member of the Independent Book Publishers Association and distributes its books worldwide in English through Ingram and Baker & Taylor. Armin Lear also has its lead children's title available worldwide in Spanish and German.
TITLE                          FAYTTE
SERIES                       Book 4, Qwyrk Tales
AUTHOR                    Tim Rayborn
ISBN                            978-1-956450-76-7 (paperback)
                                     978-1-956450-77-4 (eBook)
RELEASE                    October 24, 2023
Contact Information:
Judith A. Bailey,
jbailey@arminlear.com
Maryann Karinch,
970-274-1465 (WhatsApp enabled)