Southern California Gas Company Donates $100,000 to The Salvation Army to Give Free Food Boxes to Hungry Families
"In 2022, the San Bernardino Corps provided groceries to 10,318 households. The donation from The Gas Company will allow us to serve another 2,000 people a month," said The Salvation Army's Major Isaias Braga."
Redlands, Calif.  In 2022, the San Bernardino Corps provided groceries to 10,318 households. But food insecurity has dramatically increased in the San Bernadino Valley.
To help ease the burden The Southern California Gas Company has made a $100,000 donation to The Salvation Army of the San Bernadino area to help provide meals to hungry families.
"The donation allows us to expand our food disruption service from three Thursdays a month to four Thursdays a month beginning this June. Our extra distribution day will take place at the San Bernardino Airport on the fourth Thursday of each month," said The Salvation Army's Major Isaias Braga.
In The Salvation Army's most recent food distribution, they were able to serve 144 families with 518 people.
"This was just one day and thanks to SoCalGas we can continue to offer these services four days a month and help fight food insecurity to more than 2,000 individuals," said Major Braga.
"SoCalGas understands that many families and seniors are experiencing hardships. Food insecurity is a critical issue that is impacting many people in the communities we serve, said Kristine Scott, Senior Public Affairs Manager for SoCalGas.
The "Fueling Our Communities" grant is one opportunity to demonstrate SoCalGas' commitment to investing in our service area communities. We are proud to partner with The Salvation Army San Bernardino Corps to help those in need."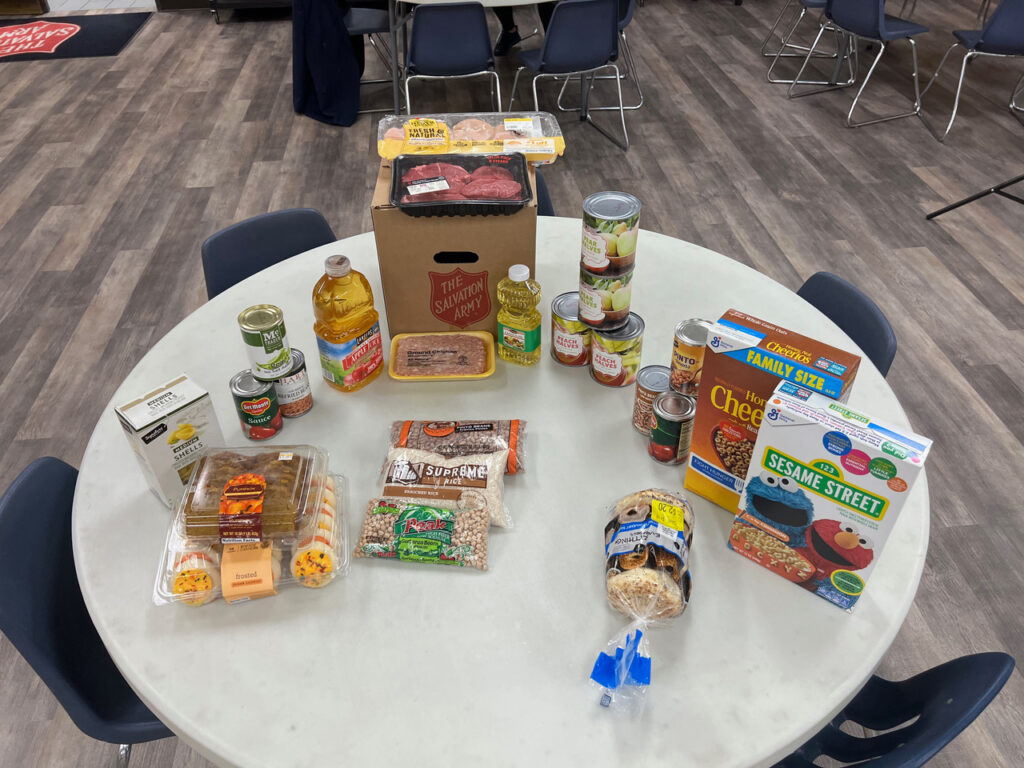 The Salvation Army we provide enough food for seven meals for a family of five. If the family is larger than five the family receives two or more boxes as needed. "We serve hungry families once a week, four weeks a month on the first week from The Redlands location and the other three Thursdays at our warehouse in San Bernardino," said Major Braga.
For more information or to sign up for the FREE food program please call (909) 792-6868.
Donations can be made online at SBCSVA.org or by calling 1-(800)-SAL-ARMY, specifying that you want your donation applied to San Bernardino Corps in California.
—30—
About the Salvation Army San Bernardino Corps
The Salvation Army may provide emergency services including food; lodging for homeless or displaced families; clothing and furniture; assistance with rent or mortgage and transportation when funds are available.
The Salvation Army is an evangelical part of the Universal Christian Church, and offers evangelical programs for boys, girls, and adults. One of the largest charitable and international service organizations in the world, The Salvation Army has been in existence since 1865 and in San Bernardino since 1885, supporting those in need without discrimination. Donations may always be made online at www.salvationarmyusa.org or by calling 1-(800)-SAL-ARMY. Our local number is (909) 792-6868.
Listen to the testimony of people who are served by the food disruption service. 
Mona: https://on.soundcloud.com/emvQr  
Eric: https://on.soundcloud.com/HQ2Zh 
Margie https://on.soundcloud.com/cLiyJ
Watch videos of people who are served at the Hospitality House.
Marlene and Lou
Dorthy and Javier 
Rios 
B-Roll: Cars in line long Salvation Army B-Roll, https://youtu.be/mh8p1ZsQzwQ
B-Roll: Loading food boxes for the hungry https://youtu.be/9-KmSGGa_mc